American Hero
USAF Staff Sergeant TJ Lobraico gave his life for his country in 2013.
This is his story.
On Patrol in Afghanistan
TJ served with the Reapers, an elite USAF security unit that
conducted missions outside the wire around Bagram Air Base.
Welcoming a Hero Home
TJ's grandfather, mother, father, step-father and life-long friends also served in the Air Force.
They welcomed him home a final time in September of 2013.
THE MOVIE…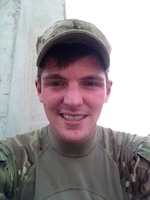 His step-grandfather was a two star US Air Force general and his grandfather, a Marine.  His mother is a Lt. Colonel and his father, a USAF Master Sergeant.  And his step-father served as an Air Force medical technician.  The military was, quite literally, the family business, and TJ Lobraico joined immediately after graduating from high school in New Fairfield, CT.
TJ grew up on Stewart Air National Guard Base.  His parents served there and TJ would tag along on drill weekends.  He was a happy, energetic kid who became a favorite among the personnel stationed there.   So when it was his time to serve, he chose the security field, like his father, and the 105th Airlift Wing at Stewart became his second home.  After several years in the regular security ranks, he volunteered for the Reapers, a special USAF security unit tasked with going outside the wire to engage the enemy.  He knew it was dangerous, but felt called to serve in a job that further protected his fellow Americans.
During a night foot patrol in September of 2013, TJ interrupted an enemy IED team and prevented an ambush that would have devastated his team.  During the ensuing firefight, TJ was killed in action by small arms fire and America lost an airman, brother, son and friend.  It was the first KIA casualty suffered by an airman from Stewart since the Viet Nam war.
This is TJ's story, but also that of his family, friends and teammates.  An Air Force family united by service to others, and by grief.  A family that honors his memory by Living for TJ and raising funds for a scholarship established in his memory.