PLEASE NOTE:  If you participated in our crowdfunding campaign and have not received your perks, please contact us via this form with your current email address and shipping address. Perks from the campaign were sent out and many were returned damaged or had no forwarding address. Also, we've sent numerous emails and many have bounced back.  Please contact us ASAP so we can resolve these issues.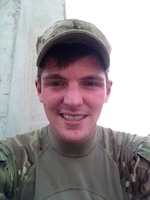 THE MOVIE
TJ Lobraico was born into a military family.  His mother is a Lt. Colonel and his father, a USAF Master Sergeant.  His step-grandfather was a two star US Air Force general and his grandfather, a Marine.  And his step-father served as an Air Force medical technician.  TJ  enlisted immediately after graduating from high school in New Fairfield, CT and volunteered for the USAF Security Forces, just like his father.  He later qualified to serve with the Reapers, a special combat unit that went outside the wire to track and engage the enemy.  He knew it was dangerous, but felt called to serve in a job that further protected his fellow Americans.
During a night foot patrol in September of 2013, TJ interrupted an enemy IED team and prevented an ambush that would have devastated his team.  During the ensuing firefight, TJ was killed in action by small arms fire and America lost an airman, brother, son and friend.  It was the first KIA casualty suffered by an airman from Stewart since the Viet Nam war.
This is TJ's story, but also that of his family, friends and teammates.  An Air Force family united by service to others, and by grief.  A family that honors his memory by Living for TJ and raising funds for a scholarship established in his memory.