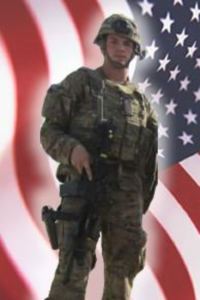 SSgt TJ Lobraico, Jr, USAF was killed in action while serving active duty in Afghanistan with the United States Air Force.
He was born on November 23, 1990 and was a graduate of New Fairfield High School, Class of 2008. He attended Western Connecticut State University studying Justice and Law Administration and aspired to continue his public service as a police officer. TJ graduated from Security Forces Technical School with distinguished honors.
TJ was continuing the family legacy of military service that began with his grandparents. He was serving with the 105th Security Forces Squadron at Stewart Air National Guard Base in Newburgh, NY, where his parents still actively serve. He had also served active duty with the USAF from 2010 until 2011 at Balad Air Base in Iraq.
TJ was known to live life to the fullest, he was spontaneous and could bring about laughter and joy in every aspect of his life and those around him. He was generous with a smile, or a kind word to anyone in need.
From Air Force Times:
By Kristin Davis | Air Force Times
On Sept. 11, more than 1,000 people came to witness the return of the first New York Air National Guardsman killed in Afghanistan, a young staff sergeant who lived and died doing what he loved.
Staff Sgt. Todd J. Lobraico Jr. — TJ to those who knew him best — was killed Sept. 5 when his unit was attacked by small-arms fire near Bagram Airfield.
His funeral was set for this morning at Western Connectictut State University in Danbury, where Lobraico was studying justice and law administration.
The loss reverberated across the 105th Airlift Wing at Stewart Air National Guard Base. Lobraico's father, Master Sgt. Todd Lobraico, is a security forces member at the base; his mother, Maj. Linda Rohatsch, is commander of the medical group.
"We are absolutely, totally devastated beyond words," said Maj. Bruno Gaita of the 105th Security Forces Squadron.
The 22-year Lobraico died protecting others, Gaita said.
"From all accounts, he put himself directly in harm's way without any hesitation. He saved people in the firefight," Gaita said. "I wish I had 20 of him. He was phenomenal. He deployed twice. He rose to staff sergeant as quickly as possible. That's a testament to his professionalism and hard work. He had an unbelievably bright future. He really did."
Lobraico joined the New York Air National Guard in 2008 after graduating from high school in New Fairfield, Conn. He spent his first combat deployment in Iraq from December 2010 to June 2011.
He wanted to be a police officer like his father, a member of the Stamford, Conn., police force.
"TJ was almost an exact younger version of his dad. The same disposition, the same smile, the same sense of humor. It was pretty incredible. They are very outgoing, gregarious people. His dad is an institution in the squadron. He is highly regarded and highly respected," Gaita said.
"His passion was us, his father and his dog. He loved his English mastiff named Gus," said Maj. Emilio Melendez, the staff sergeant's commander.
In addition to his parents, Lobraico leaves behind a stepmother and stepfather, three sisters and a brother.
"He had a beautiful girlfriend of two years, Jessica Germano," Melendez said.
Days after his death, a ceremony in New Fairfield marking the 12th anniversary of the Sept. 11 terrorist attacks doubled as a vigil for the young airman, The Hartford Courant reported. Friends wore tuxedo T-shirts — Lobraico's favorite, according to the report. Friend John Pastore remembered how Lobraico once helped him move. He was the only person who showed up out of the dozen Pastore asked for help.
"He was one of those kids that never said no to anything," Pastore said.
Lobraico's remains arrived at a hangar at the 105th Airlift Wing on Sept. 11.
More than 1,000 people watched as Lobraico's transfer case was placed into a hearse that would take his remains home, Gaita said, a turnout that did not surprise him considering the young man's impact.
His loss also served as a poignant remember of the sacrifices troops continue to make, he said.
"People lined up all the way along the highway from New York to Connecticut. They closed down sections of the interstate so the convoy would not be impeded. Fire departments draped flags over overpasses," Gaita said.
"We celebrate his life, but we are really gonna miss him — the loss of what he could have become."
###